News from the Club
YESTERDAY: at last a home match, 35 overs a side, completed in spite of the inevitable rain break. Big win for the home side over local rivals Mansle CC, who kindly lent us two of their better players. Highlights of the SAC display were a century by Daniel Nott and a 50 by Alex, whose opening partnership of 178 is a club record.
WORK AT GROUND on Wednesdays and Fridays from 14h, followed by net practice at 18h. The immediate task is to strim/scythe/rake the long grass near the nets and around the boundary edge; also extend the carpark.
CRICKET ON SUNDAY 17 JUNE & 24 JUNE: on both days there will be either a club practice match or extended practice from 13h, SO PLEASE CONFIRM YOUR AVAILABILITY.
JUNIOR CRICKET on Saturdays 14h-15h30
NEW PLAYERS & SPECTATORS WELCOME
ST AULAYE CRICKET ground at La Planche between Chenaud & St Aulaye next to crêperie
CONTACT Wynford Hicks, 05 53 91 32 57, wynford@hicksinfrance.net
Match Report Catus versus St. Aulaye Sunday May 6th 2018
Our friends from St. Aulaye travelled 3 hours from the Perigueux and were rewarded with a splendid day for playing cricket and what turned out to be an an entertaining, and competitive, very close match which went the distance
Catus batted first and surpassed their initial expectations with a record opening partnership between Ken Sutton (57 not out, retired) and Farouk (42). Catus were thus able to post a competitve score of 212 assisted by copious wides with bowlers increasingly penalised for any delivery down leg.
Catus are increasingly less reliant on the traditional cricket tea with a splendid chicken biryani being produced alongside a pasta. Despite this Barbara's cheese and onion (made with real Cheddar) and Ken's curried egg sandwiches disappeared rapidly.
St.Aulaye responded slowly and, with the run rate increasing, former French under 19 Captain Nott holed out to a splendid catch from Shafik and a great first scalp for new bowler Nixon. Catus continued to make inroads with the pick of the bowlers Karim (2 for 17 off 7) and it looked like game over when St. Aulaye skipper Clulee was bowled for 1 and the score was 135 for 6. Mian had other ideas and, ably assited by the classy Alex (28), put Catus to the sword scoring 67 not out and managing to lose 6 balls in the process. The total was thus achieved with 8 balls to spare.
> It is fair to say that today produced one of those exceptional games of cricket where the losers were disappointed but not dejected and one individual's determination changed the game. Congratulations to St.Aulaye and thanks for making a long journey to enjoy a day's friendly cricket.
Martin Kavanagh
Venez nombreux; new members welcome.
Presidents Statement 2017
Dear Members and Friends,
Firstly I would like thank the Bureau and others who have supported me in my first year as your President. I would like to thank my predecessor Keith Randel for his support this year and all the work he has undertaken on behalf of the club over the years. In addition I thank our former Secretary General David Bordes who resigned before the summer due to his increasing commitments to France Crickets and their Olympic efforts. We wish him well with his endeavours and hope to see him coaching and playing this year.
Irfan will step down this year as your Vice-President to become President of the new Eyliac Club. I look forward to working with Irfan this year both with SAC and in his new position. I thank him for his years of hard work as club Captain and then as Vice-President. I am sure you will all join me in thanking all of these officers for their efforts.
2017 was an extremely challenging year for SAC but despite this we finished a commendable third in the Blevins-Franks SW Regional League. The junior section is perhaps the highlight of the year, we made tremendous progress culminating in the junior cricket week that was well supported.
The ACCSO AGM decided that a new points system should be used in the Blevins-Franks SW Regional League for 2018. Sides will receive two points for a win, one for a tie and nothing for a loss. If there is a tie between two clubs the club who won the match between to two sides will be the league winner. The hope is this will not distort the league when clubs have to forfeit fixtures. In addition there are new rules on discipline including a card system. Players should ensure they understand the new rules I will ask Charlie to put them on the web site but they are on ACCSO's site.
The outlook for 2018 and beyond is uncertain Damazan have withdrawn from the Blevins-Franks SW Regional League and Bordeaux are yet to confirm their entrance. We hope the new club at Eyliac continues to take shape. We have had initial discussions to collaborate with Mansle Cricket on friendly, casuals, junior and with touring sides.
I hope SAC will have a productive and successful season both on and off the pitch.
Peter Brown
President – Saint Aulaye Cricket
January 2018
The first of our 2 Abris now has a permanent roof
30 April 2015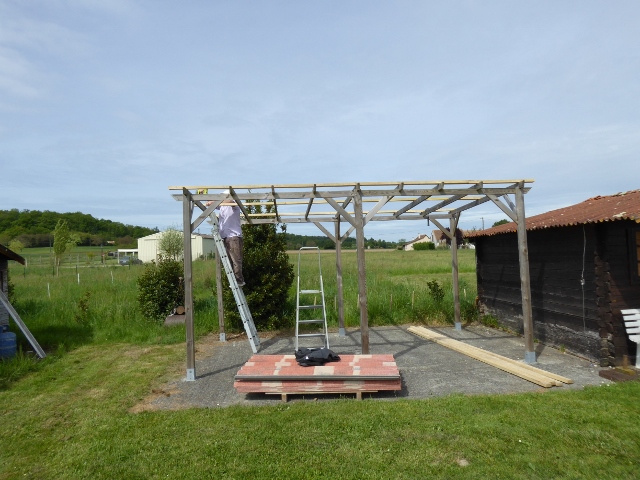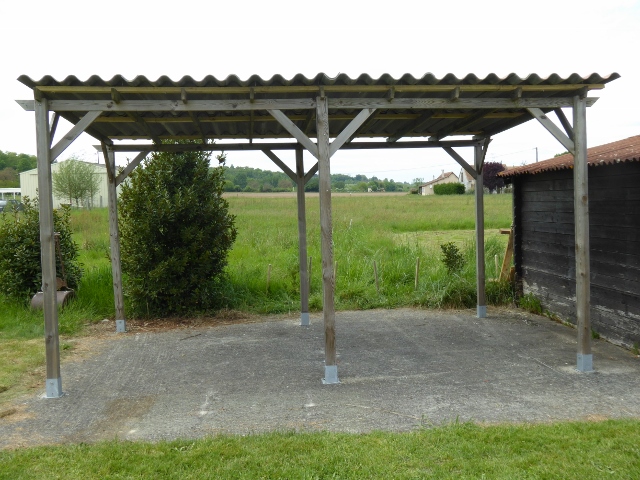 RAPPORT MORAL 2014 DU PRESIDENT
La saison 2015 n'a pas dérogée à la règle et a été une année contrastée mais cette fois avec aucun trophée remporté dans la saison. Et pour la première fois en quatre ans, l'équipe première n'a pas remporté le championnat interrégional, finissant à la deuxième place derrière Bordeaux. Néanmoins le club peut se réjouir grâce à plusieurs performances individuelles notamment Bilal Mian finissant meilleur lanceur du championnat et qui fut sélectionné en équipe de France des moins de 20 ans. Il faut aussi citer Daniel Nott qui pour la troisième année consécutive était le capitaine de l'équipe nationale des moins de 20 ans et qui a mené l'équipe à une deuxième victoire européenne en trois ans.
Je souhaite mentionner aussi la forte implication du capitaine, Irfan Sheikh, non seulement pour orchestrer l'équipe sur le terrain mais pour avoir arrangé le transport des jeunes du foyer et avoir préparé pour chaque match à domicile son délicieux biryani !
L'arbitrage dans le grand sud ouest est passé tout près d'une catastrophe, évitant de justesse l'annulation de plusieurs matches de championnat à cause du manque croissant d'arbitres homologués. Et cela devrait s'aggraver si de nouvelles personnes ne se présentent pas pour devenir arbitre régional. A cet effet, je tiens à vous informer que notre capitaine s'est proposé pour être homologué arbitre régional lors de la formation dispensée en octobre dernier par notre distingué membre et formateur national d'arbitre, Stephen Harrison.
Concernant nos adhérents, je tiens à souhaiter au nom de tous, un prompt rétablissement à trois de nos membres. Tout d'abord Stephen qui a été hospitalisé et qui en ce moment est en convalescence à Bordeaux, Pat et Dot Barry qui eux aussi sont hospitalisés. Et félicitons aussi Pat pour non seulement avoir été un héros lors de la seconde guerre mais aussi pour son centième anniversaire.
Le problème le plus critique pour le club cette année est d'avoir un équilibre financier mais le trésorier ne manquera pas de vous expliquer cela dans son rapport. Mais j'insiste sur le fait que c'est quelque chose que nous devons résoudre si nous voulons avoir un club pérenne.
Fait le 13 décembre 2014
Keith Randell, Président du Saint Aulaye Cricket
Assemblée générale 2014 de Saint Aulaye Cricket
Je suis heureux de vous convier à notre Assemblée générale annuelle qui se tiendra le dimanche 14 décembre 2014 à 15 heures à l'adresse suivante 2 Place Pasteur, Saint Aulaye.
Ordre du jour
1. Emargement à partir de 14h45
2. Mot de bienvenue du président
3. Rapport moral
a. Bilan de la saison sportive
b. Bilan de l'activité du club
4. Rapports financier
a. Bilan 2014
b. Prévisionnel 2015
5. Election du bureau
6. Modification des Statuts
7. Validation du règlement intérieur
8. Projet du club
9. Questions diverses
10. Remerciement et Clôture de l'AG
Merci de confirmer votre présence afin que l'on vous prépare la documentation nécessaire.
Fait le 13 novembre 2014 à Saint Aulaye par le secrétaire général après accord du président
Cricket in the Dordogne
In a dreadful summer for cricket weather one of the best days was yesterday (31 August). We played under blue skies with the occasional cloud, in a light breeze and warm not sweltering sunshine: ideal for a club match featuring regulars, occasionals and visitors. And with the ground at Chenaud greener than it's ever been at this time of year, you could almost imagine yourself in England.
Earlier in the month the club provided two players for France's Under 19 team which won a European cup competition played at Dreux in northern France. After losing to Switzerland in the first match, France beat Germany and Belgium – then Belgium again in the final. Daniel Nott captained the team and "Billy" Mian made his international debut.
Back in the Dordogne – in the salle des fêtes at St Paul Lizonne – our oldest member, Patrick Barry (veteran of the St Nazaire raid in 1942), celebrated his 100th birthday on 16 August. He was presented with a miniature bat signed by club members and friends including players from the Dorking Dads' Army who tour the Dordogne every year. Pat's wife Dot is our number one tea-lady and raffle-organiser.
Next Sunday (7 September) is semi-finals day in the Siddalls league which SAC won last year. As runners-up to Bordeaux who finished top of the northern pool, we have a difficult away match at Seissan in the Gers against Armagnac-Bigorre – they finished top of the southern pool. Bordeaux are at home to Toulouse in the other semi-final. The final will be on 28 September, also at Seissan (if you're looking for it on the map it's near Auch). There's also a six-a-side competition this month – at Mansle in the Charente on 14 September. Let's hope the good weather lasts – apart from the cricket there's the wine harvest to think about...
Wynford Hicks (1 September)
As a club St Aulaye Cricket has always tried to be as open and welcoming as possible – demonstrating the game at local events and recruiting new members whenever we can. So we were delighted to be asked to be part of the "So British" weekend at Brantôme on Saturday 21 June. The sports arena for the day was the monks' garden beside the river Dronne in this historic and picturesque town. We used plastic bats and a soft ball so there'd be no damage to spectators – a wise move since the ball did tend to stray outside our allocated area towards the welly-throwing and lawn bowls, though it only went in the river once.
Five of us took part including Daniel Nott (who keeps wicket and captains the France Under 19 XI) and Remy Wood: they're the two players in the photo. Recruits on the day included an American baseball veteran keen to try something different and a promising seven-year-old from Kent. Next on the agenda for him – and for other keen young cricketers including absolute beginners – is the St Aulaye junior cricket week which starts on Wednesday 30 July; it includes three mornings of coaching and practice with a match on the last day (including fathers).
Senior cricket at Chenaud next month includes a very full day on 6 July when there will be three T20 matches (SAC, Bordeaux and Mansle all playing each other), the annual visit by the Dorking Dads (13 July), a cup quarter-final against Eymet on 20 July and a friendly with a team from Charente and Poitou on 27 July. In the league SAC are second in the northern pool, having lost to Eymet away and beaten Bordeaux at home. Victory in the Bordeaux match was by two wickets and came off the second ball of the last over.
Wynford Hicks
In spite of the weather May 2014was a good month for St Aulaye Cricket. After victory over Eymet in the first Dordogne derby of the season we beat Mansle by 99 runs.
Eymet got off to a slow start on 11 May, then lost three of their top order to the hostile pace of Sukhdev Singh (3-28). David Horlock (44) and Sam Harrell (36) continued to bat steadily without dominating the bowling; in their 40 overs Eymet were restricted to 135-5. After the SAC openers were both bowled by Jaman (3-10), Jobrul Ahmed (28), David Bordes (29) and Zain Khalid (25) scored freely; Danial Mohammad hit the winning runs (a six) in the 33rd over.
Against Mansle on 25 May the openers failed again but "Billy" Mian (57), D Bordes (48) and Danial M (37) batted aggressively, hitting nine sixes between them, and helped SAC to 220 all out in 35.3 overs. For the visitors Alex Larter, who had removed the openers, returned to mop up the tail; he finished with the excellent figures of 5-43 – and the match ball signed by his team-mates.
Mansle, reacting to heavy defeats in their two previous league matches, batted cautiously but without much success against the SAC pace bowlers; after 17 overs the score was 31-4. Then a partnership between Ajmal Farooki (28) and captain Gary Clulee (26) – plus rather too many wides – helped Mansle towards a final total of 121 and a batting bonus point.
This month SAC are away to Eymet on 1 June and Mansle (just off the N10 north of Angoulême) on 29 June and home to Bordeaux on 15 June. And we'll also be at Brantôme for a "So British" weekend (21-22 June); on the Saturday afternoon we'll be demonstrating cricket and hoping to attract new members...
Wynford Hicks
Cricket in the Dordogne
The cricket season got off to a wet and windy start yesterday (27 April). My club, St Aulaye Cricket, went to Château Giscours in the Médoc to play Bordeaux and lost a close game by 21 runs but top scorer in the match was Daniel Nott of SAC with 53. Refreshments included some excellent red and rosé wine from the château.
Cricket has been played here in the Dordogne for just over 30 years. I still have the scorebook with details of our first match against local rivals Eymet on 13 August 1983. It was played on a strip of coconut matting pegged down in the middle of the local football pitch. The main problem was that the grass underneath the mat hadn't been cut properly and the ground was uneven anyway – so when the ball pitched it was difficult to predict what would happen next. So the scores were on the low side...still, we won that one.
Eymet, who celebrated their 30th anniversary last year, managed to persuade their local mayor to let them use what had been the town rugby pitch after the rugby club moved to their own ground. Like us, they started on coconut matting but they soon moved over to a modern artificial strip; and this year they are reported to have reseeded their outfield.
After 15 years as a wandering holiday side, often playing on football fields, we acquired our own ground in 1996. It's between the town of St Aulaye and the village of Chenaud in the picturesque Dronne valley. In May we have home league matches with Eymet (11 May) and Mansle (25 May) while on 4 and 18 May there are club practice matches at Chenaud. Visitors are always welcome – and so are new members, as players, umpires, spectators...
Wynford Hicks
28 April 2014
Rapport moral 2013
L'année 2013 n'a pas énormément différé de 2012. A savoir que le nombre de membres est toujours relativement limité mais nous avons réussi cependant sur le terrain, notamment en remportant de nouveau le championnat de Siddall's League. En revanche, succès mitigé pour la Coupe et le T20, mais il faut bien laisser gagner les autres de temps en temps !
Le fait que notre coach national, David Bordes, soit revenu dans son pays natal, la Dordogne, est particulièrement remarquable et nous l'accueillons avec grand plaisir en espérant que sa proximité se traduira par une amélioration de nos performances sur le terrain. Dans le même domaine, le coach junior Mike Selig, demande à faire partie de notre club en 2014, ce qui est prometteur. Il est intéressant de noter que sa décision repose sur le fait que notre club a pour politique d'encourager le développement de jeunes joueurs, politique pour laquelle notre secrétaire, Wynford Hicks, a toujours travaillé.
Nous avons maintenant deux abris, un de chaque côté des vestiaires afin de protéger les spectateurs du soleil et nous espérons rendre ces abris imperméables cette année.
Une fois de plus nous avons reçu une subvention du CNDS et, bien que nous n'ayons rien reçu du Conseil général cette année, nous espérons nous rattraper en 2014 car il nous a été demandé de nous inscrire en ligne, ce qui est maintenant fait, et SAC a sa propre rubrique.
En conclusion, 2013 a été une année de progrès. En plus des personnes déjà mentionnées, nous avons bon espoir de recruter deux nouveaux membres, mais il est certain qu'il nous en faudrait plus.
Keith Randell
Président, St Aulaye Cricket
21/01/2014
AGM 2014
Here is the agenda for the SAC AGM which will be held in the Salle des Associations, Place du Champ de Foire, St Aulaye, on Sunday 26 January from 10h30. There will be lunch afterwards in the Bar du Marché; please let me know if you're staying for lunch.
Best wishes, Wynford
St Aulaye Cricket AGM 2014
Agenda
Registration and recording of proxies

Apologies for absence

Minutes of AGM 2013

Matters arising

Motion from Chris Adamson

President's report

Treasurer's report (including 2013 accounts)

Secretary's report (including 2014 fixtures)

Election of bureau

Budget for 2014
Membership and licence fees
Junior cricket
St Aulaye Casuals
Ground maintenance and development
Proposed review of statutes
AOB
ST AULAYE CRICKET: update from the secretary
1. Support the St Aulaye Fête Franco-Britannique: 18-19 May!
* Jane Bedford (Cupcakes) & Pam Nott (secondhand books, proceeds to the club) will be at the Saturday morning market in St Aulaye (Rue des Faux Christs)
* All welcome at the Sunday morning cricket demonstration in the St Aulaye salle des sports (opposite post office) from 10h to 12h – bring trainers if you want to take part
* Don't forget the other events, eg pub night with concert & curry on Saturday & picnic on Sunday
2. Ground maintenance & practice on Saturdays
From next Saturday (18 May) there will be grass cutting etc from 14h followed by net practice, whenever there isn't a match. If you're coming to cut or strim please let me know in advance. But general labour (raking etc) is always welcome without notice.
3. Tie with Bordeaux!
There was a dramatic end to a remarkable match at Château Giscours last Sunday. When the last ball was bowled all three results were possible: SAC were 163-9 chasing 164 all out with David Bordes on 19 and Atif Sohail on 10 (they put on 26 together); the batters scrambled a bye so the match was tied (SAC 16 points; Bordeaux 15).
Olly Mawdsley had the excellent figures of 5 for 9 off 7, then played what looked like a match-winning innings – until he was out for 44.
One of his victims was caught behind off the faintest of touches. The batter, Clinton Ferreira, showed players on both teams how to play the game by walking without waiting for a decision by the umpire.
Top scorer in the match was Imran of Bordeaux, who came in at 66-6 and made 50.
For SAC Sukhdev Singh took the last three wickets (3-21 off 5).
4. Beaten by Eymet
In the first league match of the season, played at Eymet on 28 April, SAC lost by 41 runs. Eymet were all out for 155 (David Horlock 48; Jobrul Ahmed 4-11 off 6; Balal Mian 4-28 off 4.4); in reply SAC made 114 (Jobrul Ahmed 21; Nigel Jones 3-10 off 8). Eymet 25 points; SAC 4 points.
Wynford Hicks
14 May 2013
News Letter May 2013.
Last Season
Last season was the club most successful year, from a results point of view, since it was founded. We finished top of the Siddall's league, won the T20 competition and reached the Siddall's Cup Semi Final.
This success was greatly assisted by a number of disadvantaged younger players, mainly from Périgueux, who joined the club. Their enthusiasm and talent made up for the dwindling numbers of senior playing members.
This Season
So, if you fancy a game, or want to try cricket for the first time, we are always looking for new members, of all ages, to play competitive and friendly matches. You'll be guaranteed a warm welcome. Coaching is provided at frequent practice sessions at our ground in Chenaud commune, which is situated just outside of St Aulaye.
Fund Raising
Financing for the club is always challenging.
A number of Fund Raising Events are being planned for this season.
Sunday 4 August. – Barbecue after club match at Chenaud.
Sunday 18 August. – Curry after T20 match at Chenaud.
Saturday 7 September. (TBC). – Longeveau / SAC Golf Day.
If you wish to make a donation, please make cheques payable to St Aulaye Cricket, and send them to our Treasurer, Mr Charlie Nott, at La Roche Chabrelle, 24320 St. Just, France. (He can provide a French Tax Certificate if you make a donation.)
Facilities at Chenaud
A much needed project for this year is a new shelter (abri) for particularly hot (or wet) days, together with a shelter for the scorer next to the scoreboard. The abri will allow us to bid for the Siddall's Cup Final, bringing in some extra funds. In addition we will be renovating the scoreboard and rendering the toilet walls.
Keeping Up To Date
You can follow the club's activities on their
Web Site http://www.st-aulaye-cricket.org/
Facebook Page https://www.facebook.com/pages/St-Aulaye-Cricket/271384582878798?fref=ts
If you wish to be added to or deleted from our distribution list please let us know.
Chris Adamson, Membership Secretary
President's Report for 2013
For those of us that have been with the club since it began it would be hard to find a more successful year from a results point of view, top of the Siddalls league, winning the T20, reaching the Siddalls Cup Semi Final.
2013 has seen many changes, particularly demographically and financially. Most of our players now come from the Perigueux area, and also have very little spare cash, something that has given our treasurer not a few headaches. One great benefit of our new players has been that the average age of the team is probably not far from 20, as opposed to a few years ago when it was nearer 60, at least we hold on to our catches now!
Unfortunately at the same time the loss of local members, usually somewhat better off financially, has made fundraising particularly difficult.
We now have an excellent relationship within CD24 (the local branch of FFBS), at the recent AGM of 11 present, 3 were from cricket, they have a very pro cricket president, and your president is secretary, so at last cricket has a say. This co-operation has bought about the possibility of a new ground at Perigueux next to the golf course, for games and practice with every chance of it being operational by 2014. This will be shared with the baseball team and archery club. This is still a work in progress but should come about .
Another result of the CD24 relationship is that this year we will be filling in our subvention forms together to ensure a common approach as this source of funds is becoming harder to obtain with, from 2014, much more emphasis on disabled and female players.
A much needed project for 2013 is a new abri for particularly hot (or wet) days, together with a shelter for the scorer next to the scoreboard, renovating the scoreboard, and rendering the toilet walls. The abri will allow us to bid for the Siddalls Cup Final, bringing in some extra funds, but not before 2014 at the earliest as this year will be at Damazan.
Lastly a few pats on the back;
Wynford for his foresight in making contact with the Foyers some time ago and continuing that contact to the point where the Foyer lads now make up the bulk of the team. Also for his sterling efforts to make this years' junior week the best ever.
Irfan for his terrific efforts as captain, and also organising the young players with transport etc, and particularly for the bucket of biryani he makes for every match.
Charlie for holding the finances together in very difficult circumstances.
Lastly to our three youngsters Danny, Olly, and James for their performances in the U19 national team, with Danny making a tournament winning innings as captain in a four nation tournament in Germany, together with a solid performance for France Espoirs in Holland.
Daniel Nott Captains France Cricket U-18 to Victory in Germany
Our 3 St Aulaye Cricket players (Daniel Nott, Oliver Mawdsley & James Bedford) have played their part with the France Cricket U-18 team winning a 4 way tournament against strong competition from Belgium, Germany and Luxembourg. In the final game against Belgium Daniel was 84 not out and Oliver scored 25 off 26 balls. This is the first time since 2001 that a France Youth Cricket Team has won an International competition.
Thanks also to Keith Randell for taking photographs and chauffeuring.
Click on the links below for photos.

https://picasaweb.google.com/115449000747296883364/FranceVAllemagne?authkey=Gv1sRgCPyjwrXllqeQpQE
https://picasaweb.google.com/115449000747296883364/FranceVLuxembourg?authkey=Gv1sRgCNybh8no2qnVFQ
https://picasaweb.google.com/115449000747296883364/FranceVBelgique?authkey=Gv1sRgCMe78-GX08TSxQE
https://picasaweb.google.com/115449000747296883364/Presentation?authkey=Gv1sRgCOqN6-ex15aFBQ
Bravo
SPRING JUNIOR CRICKET WEEK
for boys and girls 8-12
Monday 16 to Friday 20 April, 2012
at the SAC cricket ground, Chenaud
PROGRAMME
Monday 16 April – Thursday 19 April, 14h-17h: work on basic techniques, eg batting, bowling and fielding; practice drills and games; the laws and cricket etiquette
Friday 20 April, 14h-17h: friendly match
CHENAUD CRICKET GROUND: from St Aulaye centre take the Chalais road, go down the hill and turn left; this minor road leads to the cricket ground.
EQUIPMENT: provided by the club – but bring your own (eg your bat if you have one)
CLOTHING: cricket whites or shorts & T-shirt + sweater, tracksuit, trainers, cap
NB: the week is intended for both beginners and experienced players; coaching in both English and French.
Organised by St Aulaye Cricket
Contact: Wynford Hicks, 05 53 91 32 57
Great Start to 2012
Daniel Nott, St Aulaye Cricket Junior Captain has been appointed the France Cricket National Team U-19 captain. Well done Daniel and looking forward to you leading the U-19 team to success over the coming years.
SW League Final 2011
SW league final: St Aulaye (185-7 in 40 overs) beat Noé (167) by 18 runs
Photos: SW League Final 2011
Lancashire Tour 2011
Newspaper Article: Oldham Evening Chronicle
Marsden CC U/15s v A SW France U/15s XI: Monday 22 August (40 overs)
Marsden 174 all out in 38 overs
J Harding: 6 overs/1 maiden/38 runs/2 wickets
J Dawkins 8/1/31/2
L McCaffrey 8/3/14/2 (10 runs scored off first over; then 7 overs for 4 runs)
O Mawdsley 5/1/15/-
A Vye 3/-/19/1
J Bedford 4/-/25/-
S Johnson 4/-/19/2
SW France 178 for 4 in 24.2 overs – won by six wickets
D Nott 0/K Harding 2/J Harding 54/O Mawdsley 90/J Dawkins 8 not out/A Bodet 0 not out (partnership for 3rd wicket 162)
Photos Marsden: Click Here
Shaw CC U/15s v A SW France U/15s XI: Tuesday 23 August (40 overs)
SW France 185 all out in 38.1 overs
D Nott 52/K Harding 14/J Harding 6/O Mawdsley 16/J Dawkins 0/A Vye 0/A Bodet 7/S Johnson 15/L McCaffrey 22/R Johnson 3/J Bedford 4 not out
Shaw 142 all out in 32.5 overs – SW France won by 43 runs
J Harding 5.5/1/35/3
J Dawkins 4/-/15/-
O Mawdsley 5/-/12/-
L McCaffrey 4/2/7/1
S Johnson 4/-/10/1
J Bedford 7/-/34/4
A Bodet 3/-/22/1
Photos Shaw: Click Here
Central Lancashire League U/15s v A SW France U/15s XI: Wednesday 24 August (40 overs)
CLL 185 for 6 declared in 33 overs
O Mawdsley 8/40/2
J Dawkins 6/-/30/-
J Harding 6/-/28/-
L MacCaffrey 5/-/22/1
S Johnson 3/-/11/1
J Bedford 5/-/47/1
SW France 100 for 3 in 21 overs (rain stopped play – match drawn)
D Nott 20/K Harding 12/J Harding 34/O Mawdsley 20 not out/J Dawkins 0 not out
Photos CLL: Click Here
Saddleworth & District League U/15s v A SW France U/15s XI: Thursday 25 August (40 overs)
SDL 195-8 in 40 overs
J Harding 8/-/39/1
J Dawkins 8/3/20/3
L MacCaffrey 5/-/34/1
O Mawdsley 8/2/16/3
A Vye 2/-/20/-
J Bedford 3/-/30/-
S Johnson 6/-/26/-
SW France 88 all out – lost by 107 runs
D Nott 4/K Harding 23/J Harding 1/ O Mawdsley 17/A Vye 3/S Johnson 0/L McCaffrey 6/J Bedford 7/J Dawkins 1/R Johnson 6/A Bodet 0 not out
Photos Saddleworth: Click Here
BATTING
D Nott 0 + 52 + 20 + 4 = 76 (average 19.0)
K Harding 2 + 14 + 12 + 23 = 51 (12.8)
J Harding 54 + 6 + 34 + 1 = 95 (23.8)
O Mawdsley 90 + 16 + 20* + 17 = 143 (47.7)
J Dawkins 8* + 0 + 0* + 1 = 9 (4.5)
A Vye 0 + 3 = 3 (1.5)
A Bodet 0* + 7 + 0* = 7 (7)
S Johnson 15 + 0 = 15 (7.5)
L McCaffrey 22 + 6 = 28 (14)
R Johnson 3 + 6 = 9 (4.5)
J Bedford 4* + 7 = 11 (11)
BOWLING
J Harding 25.5 overs/2 maidens/140 runs/6 wickets (average 23.3)
J Dawkins 26/4/96/5 (19.2)
L McCaffrey 22/5/77/5 (15.4)
O Mawdsley 26/3/83/5 (16.6)
A Vye 5/-/39/1 (39)
J Bedford 19/-/136/5 (27.2)
S Johnson 17/-/66/4 (16.5)
A Bodet 3/-/22/1 (22)
CATCHES
D Nott 3, K Harding 2, O Mawdsley 3, J Dawkins 1, J Harding 1, L McCaffrey 2, A Vye 2
RUN OUTS
J Harding 2, L McCaffrey 1
Photos: Old Trafford
Photos: Team Meal
St Aulaye go top
19 July 2011
Newspaper Article: Dordogne Advertiser Sept 11
Report by Daniel Nott. Photo by Clive Greenwood.
St Aulaye Cricket have finished top of their pool in the south-west section of the French national league – after losing their first two matches.
The season started off with a close encounter at Eymet, St Aulaye losing by 7 runs. (The visitors had only 10 men after a late drop-out.) Eymet won the toss and batted first, scoring 169-7 in their 40 overs. St Aulaye replied with 162 all out with contributions from I Sheikh (46), J Harding (30) and a quick 28 not out from S Singh.
The second match was at home against Bordeaux. This time the St Aulaye captain, A Raynor, won the toss and batted first. St Aulaye gained maximum batting bonus points scoring 258-9, mainly thanks to a powerful innings of 95 from J Harding who put on 105 with D Nott (33). But Bordeaux chased down the total with relative ease, winning by 8 wickets.
St Aulaye finally got into winning ways at Mansle. The home team won the toss and batted first but were all out for 127 with the main wicket takers J Harding (4-18), B Wedgwood (3-30) and I Sheikh (2-11). A Raynor scored 95 not out in St Aulaye's reply, which gave them an easy 8-wicket win.
Another victory followed against Eymet at home. Again, Eymet won the toss and batted, scoring 172-8 in their 40 overs with J Harding (3-31) and B Wedgwood (2-26) bowling well. St Aulaye got off to a good start through their openers, A Raynor (31) and K Harding (23), but a minor collapse followed. Mainly thanks to a 50 partnership between D Nott (51 not out) and A Hossain (21), St Aulaye managed a tight 1-wicket victory.
They continued on their merry way against Mansle at home. On the hottest day of the year so far A Raynor won the toss and – of course – batted first. The openers (A Raynor, 60, and D Nott, 31) put on 95 for the first wicket; then a quick-fire 78 from J Harding and 38 not out from I Sheikh brought the St Aulaye total to 259-4. Mansle fielded well with 9 players and then batted well to get to 240-6, losing by 19 runs – thanks to some tight bowling in the middle overs and 3 wickets from I Sheikh.
And then came the crunch match against Bordeaux, with both teams on 88 points and Eymet on 112 having played all their games, so a win with 5 bonus points for either side would see them winning their pool.
St Aulaye's replacement captain – A Raynor being on a bike ride for Cancer Research – won the toss and, you guessed it, batted first. St Aulaye started off well, the new opening pair of J Harding (62) and D Nott (24) putting on 63 for the first wicket. I Sheikh (28), B Wedgwood (23 not out) and 48 extras, mainly wides, pushed the score up to 196-9 – just not enough for the third batting bonus point.
In their reply Bordeaux made a steady start but then collapsed to 124 all out; B Wedgwood took 4-16 and A Hossain and I Sheikh 2 wickets each; there were several good catches and two spectacular runouts. Overall it was the best fielding performance of the season.
With four bowling and two batting bonus points, added to the 20 for a win, St Aulaye passed Eymet's total to top the pool. They now meet a club from the southern pool in a play-off match at Eymet on 31 July.
SPONSORED CYCLE RIDE TO LA PALMYRE 2011
19 July 2011 by Keith Randell
On Thursday 14 July a team of five young and one not so young cyclists, all members of St Aulaye Cricket set out on a sponsored bike ride from Brossac to Royan in order to raise funds for their forthcoming junior tour to Lancashire in August. Taking part were Olly Mawdsley, James Bedford, John Harding, Adrian Raynor (team captain) and his daughter. In back up cars were Wynford and Amanda Hicks, Charlie Nott and Keith Randell. Charlie's son Daniel was unable to take part as he was in Paris training with the French U19 side but still managed to raise 330 Euros!
After some hard riding in pleasant weather three of the team completed the course which was a distance of approximately 90kms, the other two completing a very large part of the course as well.
As a "reward" the tour finished in a campsite close to the sea at La Palmyre for two nights where the juniors enjoyed themselves surfboarding on the "Cote Sauvage" complete with a bit of sunburn! They even managed to prepare and demolish a 5 course meal on the Friday night.
The trip raised several hundred Euros and together with some help from the Conseil General de la Dordogne, an enjoyable tour of Lancs should be guaranteed. They will be joined by several juniors from Toulouse CC, and at least three games are planned against strong opposition, together with a guided tour of Old Trafford cricket ground.
juin 02, 2011
Très Bien Alizée Bodet
Stage préparatoire et programme EDF féminine
Jeudi 2 juin, à Thoiry. Journée de préparation des 22 joueuses du groupe France.
Convoquées :
Essonne : Arulmozhi Parvady
PUC : Miriam Romero, Claudia Valera, Marwa Cheikhoun, Marion, Timothée, Audrey Vens
Saint Brice : Panna Mistry, Radikha Patel, Vibabhen Patel, Anjana Gohel, Roshani Patel, Shraddha Patel
Thoiry : Sharon Whiting, Chantal Woods, Maggie Beauclerk, Emma Chancé, Carly Hicks, Elaine Chancé et Crissy
St Aulaye : Alizée Bodet
Saumur : Rebecca Blake
Arbitre : Danièle Wielezynksi (Nantes)
Au programme, des ateliers techniques et un match de sélection.
Dates suivantes :
- regroupement soit le 3 juillet soit le 15 août
- Matchs vs Jersey 27/28 août à Saumur
Dordogne youth training days – Spring 2011
10 APRIL AT ST AULAYE, 11h – 17h
About 30 young cricketers (of both sexes) took part including groups from the Institut Educatif pour Garçons, St Jory de Chalais, the Foyer de la Beauronne, Périgueux, and St Aulaye Cricket. The age range was 9 to 18, so the players were divided into two groups.
In the morning session the younger group (9-13) played an informal practice game with the St Aulaye players using a soft ball (so no pads, helmets etc), on the cricket field, while a senior player from St Aulaye Cricket supervised the older cricketers in the nets, concentrating on bowling actions. In the afternoon the older cricketers played a 25-over match with each side batting for the full 25 overs – if all 10 wickets fall, batters return for a second innings.
The younger group meanwhile used the nets and the outfield, coached by one St Aulaye junior who wasn't playing in the match. A senior player from St Aulaye Cricket was able to keep an eye on this – and things in general –the father of one the younger players umpired the match (with members of the batting side at square leg).
17 APRIL AT EYMET, 11h – 17h
For the second day it was decided not to combine the two age groups but to arrange a separate session for the younger juniors (see below). Participants this time came from St Jory de Chalais (5), the Périgueux Foyer (4), the Foyer des 3F, Bergerac (2) and St Aulaye Cricket (6) plus two holiday members: a total of 19.
In the morning session there was continuous cricket with as many pairs as possible batting for five overs and bowlers having two-over spells. The organisers tried to ensure that those who might not bowl in the main match – and wanted to bowl – got the chance.
In the afternoon we played a 25-over match (9 against 10), which was umpired by Stephen Harrison, with another volunteer father at square leg. Again a senior player from St Aulaye Cricket could keep an eye on things and operate or supervise the scoreboard.
23 APRIL AT ST AULAYE, 14h – 17h
The coaching and practice session for 9-13-year-olds was divided into three parts. First club captain Adrian Raynor supervised a continuous cricket session with younger boys batting in pairs with older ones; they wore full protective clothing including helmets. Then a senior player worked with the four younger boys on basic batting skills. Finally two of the St Aulaye junior players took the boys through a series of fielding drills.
The weather has been perfect on all three days. Everybody who took part seemed to enjoy the cricket – and would like more. Some activities are already planned:
Foyer des 3F players practising/playing regularly with Eymet

St Jory players practising/playing regularly with St Aulaye

Friendly match: Périgueux Foyer v St Aulaye – date to be arranged

Regular (monthly) sessions for 9-13-year-olds
Report written by Wynford Hicks, Saint Aulaye Cricket
St Aulaye, 25 April 2011
Well done Alizée
Women's cricket in Thoiry : report
FC
21 July 2010
---
The Chateau de Thoiry Cricket Club on the 3rd and 4th July saw female cricketers from different parts of France converge to share their love of cricket. Ladies and girls from Lille, Saint-Aulaye, Nantes and the Ile de France came to work on their skills and to enjoy playing together.

Richard and Stephen Woodall put players through fielding, batting and bowling drills. Many were introduced to the slips cradle for the first time and were surprised by the quick changes of angle that the ball made after hitting or skidding off the curved surface of the cradle. This was followed by a throwing exercise which was aimed at improving technique and accuracy.
The first batting drill had the players hitting the ball between cones on the off side. This then led to an exercise that encourages front foot play, the drive not being a natural shot for girls. A short bowling drill followed with everyone vying to be the one to hit the stumps most often.

These exercises managed to whet the cricket appetite of the girls and they couldn't wait to play a game. They were divided up into pairs and a double wicket competition ensued. There were good displays of straight bat to the straight ball and some elegant stroke play was evident. In the field there were some good catches and excellent returns to the stumps. There was great team spirit as the more experienced players were always eager to help the newcomers.

There was a visit on Sunday morning by a journalist from the Daily Telegraph UK and his photographer. Some of the promising young players were interviewed and photos taken.

The following prizes were awarded at the end of the weekend.
| | |
| --- | --- |
| Best Fielding | batting gloves to Alizée Bodet (Saint-Aulaye) |
| Best Batting | batting gloves to Chantal Woods (Thoiry) |
| Best Bowler | a trophy to Sharon Whiting (Thoiry) |
| Best Newcomer | a bat to Caroline Ella-Meye (Lille) |
| Promising Batsman | batting gloves to Emma Chancé (Thoiry) |
| Player of weekend | a cricket bag to Alizée Bodet (Saint-Aulaye) |


Thank you to Chantal Woods and Chateau de Thoiry Cricket Club for providing additional prizes. Thank you to Dany Woodall for providing a sumptuous lunch on Sunday.

The event was thought to be a success by all. Everybody had a great time playing the game that they love.

© France Cricket
News – St Aulaye Cricket
Cricket is an Olympic Sport - again.
During the Winter Olympic games in Vancouver in February 2010, the Olympic Council recognised cricket as an Olympic sport. Attached you can actually see what the certificate looks like - a simple form that has taken years of work by the ICC and national cricket bodies to achieve.
Why is this important? Mainly because in many countries, including France, being an Olympic sport gives slightly easier access to government and other grants for the development of the game. Even better would be if cricket were actually included as in the games - there is a strong movement to try to get into the games of 2020 obviously with the Twenty/20 version of cricket.
Why again? There was a game played in the Paris games of 1900 between a team from England and one from France - the French came second - and after a bit of a kerfuffle medals were actually awarded. Cricket has not featured since then so, in effect, France is the current Olympic Silver medallist for cricket!!!!!
Mole Massacre at Chenaud.
Over about 2 weeks at the cricket ground the John the moleman eliminated 20 of the pesky creatures which had proliferated in the worm-rich soil. The molehills and the burrows have made the ground very uneven and so the next activity will be a heavy roller to level and compact the surface - Tim Williams has volunteered to do this once the conditions are right.
Anyone wanting to make use of the mole elimination service should contact John Hall, le Loubat, 24150 Mauzac et Grand Castang Tel 05 53 22 07 32 Mob: 06 06 45 96 71
Happy hunting
2009
2009 has had an interesting beginning for the club with a number of successful events. On the social front the traditional English quiz night held at Bonnes on 13th March attracted over 120 people and raised around € 1000 for the club funds. Tim Williams organised the evening and special thanks are due to Valerie Wareham as quiz-mistress and to many club members who prepared and served food and drinks, sold tickets and tidied up afterwards. The AGM and Dinner at Chez Raoul in Bertric Burée organised by Keith Randell was a convivial evening for around 25 people. The committee was re-elected unopposed despite voting to raise the senior licence charge from 2010.
Practice for juniors and seniors has been on-going in the Sports Hall at St Aulaye since January and this has paid off as our team won the ACCSO – North Indoor tournament held at St Astier. There were even enough young St Aulaye players available to lend some to other teams! Outdoor training has now started at the ground (weather permitting) for juniors on Wednesday evenings and for seniors on Thursday evenings. Our key challenge remains finding enough senior players to ensure a full team for each game so new members are most welcome and actively sought.
Thanks to support from the ICC Europe office via France Cricket the club at last has a full size Notts Sports matting wicket. We are hoping for further grants from the French Sports Ministry and from the Perigord Sports Department to offset some of the costs of extending the concrete base and putting the mat and underlay in place. This work has been carried out by club captain Adrian Raynor helped by friend Nick and Mike Gant and will provide us with a European standard pitch appropriate for our national league games and for other national level matches.
Up coming events include a junior session at Damazan on 8 – 10 May where the game against the South-East will be part of the preparation and selection for the national U15 squad. We are hopeful for several of our juniors including John Harding who has already played in French national teams.
Finally, the club has been featured on the sports section of Radio Bleu Perigord by Francis Lacour, every day for the week beginning 27th April. You can hear the interviews elsewhere on the website.
Stephen Harrison,
President.
30 April 2009
HONOURS FOR ST AULAYE CRICKET MEMBER
We are very pleased to report that Patrick Barry, long time non-playing member of St Aulaye Cricket and keen supporter, has been awarded the French honour of "Chevalier de la Legion d'Honneur" for his part in the raid on St Nazaire on the 28th March 1942. The medal is to be presented at a ceremony at the French Embassy in London on the 64th anniversary of the raid.
British naval and commando forces destroyed major dock installations at St Nazaire in a daring night-time attack designed to prevent its use by the German battleship Tirpitz. In wooden speedboats they sailed up the Loire and rammed an old American destroyer through the dock gates, where it subsequently blew up putting the dry dock and its installations out of use for the whole of the war. There were significant casualties and the raid resulted in the award of 5 Victoria Crosses and many other medals for military gallantry.
The raid has been long recognised as a key event in the war and this is confirmed by the French Government making this award to a non-French person - a fairly rare event.
Our congratulations to Patrick and Dot.
Stephen Harrison
President, St Aulaye Cricket
9th March 2006